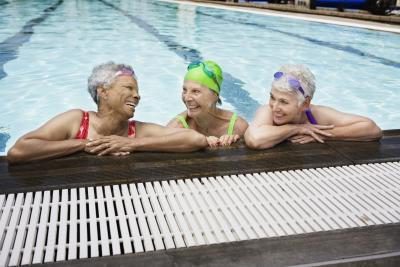 Good physical and mental health can improve your quality of life during your older years. In addition to promoting your independence and keeping your body strong and energized, the American Council on Exercise states that physical activity can also prevent or improve age-related conditions, such as osteoporosis and arthritis, and lowers your risk of injuries and health conditions, such as stroke and heart disease. Paired with good mental health, this combination can add years to life.
Consult your doctor before starting a new exercise routine to ensure your planned regimen is safe for your physical condition. Always gradually start exercising, and as your fitness improves, slowly increase the duration and intensity. Start your workouts with a five- to 10-minute warm-up to get your blood flowing and prep your body for the work to come. Find activities that you enjoy so you're more likely to stick to your routine. Your local community center might offer various classes, such as yoga and tai chi, which can help promote your flexibility while you enjoy the company of other health-conscious adults.
Dr. Alex Jimenez D.C.,C.C.S.T's insight:
As people age, it's natural for the human body to begin going through wear and tear changes along its functioning structures, occasionally developing into conditions and their respective symptoms. However, maintaining a proper fitness and wellness regimen over time, can help keep individuals active and healthy, improving their quality of life during their older years. For more information, please feel free to ask Dr. Jimenez or contact us at (915) 850-0900.