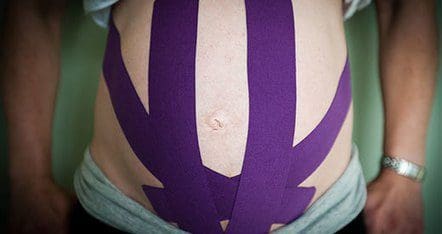 5 Ways Pregnant Women Can Use Kinesiotape by Dr. Alex Jimenez
Notice: Clinic News & Events
5 Ways to Use Kinesiotape for Pregnant Women
Women often seek out chiropractic care during their pregnancies. One of the main reasons for this is that if they are having musculoskeletal pain, their Obstetrician or Midwife generally has very limited options for conventional medical treatment. They are less likely to prescribe medication, which presents an amazing opportunity for us as chiropractors. What initially began as a strange combination of a sports certification and a prenatal/pediatric certification has created a successful and in-demand niche for us. For the most part, I cannot imagine treating prenatal patients without having the sports background. First, most women at some point in their lives have been or currently are an athlete. And second, one of the most common complaints women have during pregnancy is myofascial pain, and who better to treat that than a sports chiropractor? Here are 5 common and easy-to-treat complaints during pregnancy:
One: Pubic Bone Pain
This pain is very common during the second and third trimesters of pregnancy. Women will often describe it as exquisitely tender, worse with rolling over in bed at night, walking or climbing stairs. Conventional medical opinion is that the ligaments during pregnancy are much more relaxed (due to the hormone, relaxin) causing separation of the pubic symphysis and thus inflammation and pain. Sports chiropractors are uniquely qualified to assess this joint, and the common causes of pain can include:
1. Adductor hypertonicity easily addressed with myofascial release or techniques such as Graston, which can be done over leggings or on skin.
2. SI Joint fixation or Pubic Symphysis fixation. While I am generally a diversified adjuster, an activator adjustment to the superior or more-tender pubic rami will go a long way in terms of providing relief. I strongly discourage any audible manipulation of the pubic symphysis.
3. Kinesiology taping of a "RockTape Baby Belt" or modified version of this can provide significant relief and is much more comfortable than a pelvic support belt.
4. Using an ice pack for 15 minutes prior to going to bed at night will decrease pain and inflammation while sleeping.
Two: Rib Pain
Rib pain, especially in the lower and floating ribs, is common as the weight of the abdomen is pulling on the oblique abdominal muscles and their attachments at the ribs. Adjusting the ribs at the thoracic spine and incorporating myofascial release or Graston Technique will work quickly (often in just 1 treatment). Finish up with a few strips of kinesiology tape and your patient will feel significantly better.
Three: Upper Abdominal Numbness
Upper abdominal numbness is a common symptom during the later stage of pregnancy. It often presents as numbness but can also be painful and worse with sitting. One of the easiest ways to provide relief is with one simple strip of kinesiology tape over the top of the abdomen directly under the rib cage.
Four: Swelling in the arms and legs
Swelling in the arms and legs is very common and can lead to numbness, tingling or pain. Before beginning treatment, be sure to assess if the swelling in the feet is significant and test for pitting edema which can be a warning sign of preeclampsia. This can be corroborated with a high blood pressure reading and is very dangerous. Two very effective sports techniques for use with lower extremity swelling include 1. NormaTec PULSE Recovery System which is not contraindicated in pregnancy. Patients can do a few 20-30 minutes sessions per week to promote circulation and decrease swelling. 2. Kinesiology taping for edema on the ankles.
Five: Lower Back Pain
Lower back pain in pregnancy is very common. Evaluating a pregnant patient prone is very easy if you have pregnancy cushion that sits on top of your table. If you do not, you can evaluate the lower back in the seated or side lying position. Lower back pain can generally be addressed with diversified adjustments (without any rotation as to not stress the abdomen). In addition, the Webster Technique for pregnancy is a valuable tool for assessing and treating lower back pain during all stages of pregnancy. There are also valuable kinesiology tape applications for lower back pain, RockTape features a pregnancy taping pdf online. In addition, there are no contraindications to using the Graston Technique to address myofascial pain in the lower back.
Most of the taping techniques discussed above can be done by patients themselves after a one-time demonstration. Have an assistant or patient's family member take a video of the application for reference at home. Many sports chiropractic techniques can be used very effectively on prenatal patients.
Sourced through Scoop.it from: circleofdocs.com
Women often seek out chiropractic care during their pregnancies. One of the main reasons for this is for musculoskeletal pain. The most common complaints women have during pregnancy is myofascial pain, and who better to treat that than a chiropractor.
Chiropractor💡 Author • Researcher • Injury & Trauma Clinician • Wellness Educator • 915-850-0900 📞
We Welcome You 👊🏻.
Purpose & Passions: I am a Doctor of Chiropractic specializing in progressive cutting-edge therapies and functional rehabilitation procedures focused on clinical physiology, total health, functional strength training and complete conditioning. We focus on restoring normal body functions after neck, back, spinal and soft tissue injuries.
We use Specialized Chiropractic Techniques, Balanced Diet Plans, Agility Training programs, Cross-Fit techniques, the PUSH-Rx Rehabilitation System and a highly specialized program for our Veterans.
We've been blessed to use our methods with thousand of El Pasoans over the last 27 years. This has allowed us to improve health and restore true fitness through researched non-surgical methods and wellness programs. These programs are natural and use the body's own ability to achieve goals of improvement, rather than introducing harmful chemicals, controversial hormone replacement, surgery, or addictive drugs. We want you to live a life that is fulfilled with more energy, positive attitude, better sleep, less pain, proper body weight and informed on how to maintain this way of life.
As an extension to dynamic rehabilitation, we too offer our patients, disabled veterans, athletes, young and elder a diverse portfolio of strength equipment, high performance exercises and advanced agility options. We are very proud to have teamed up with the cities premier therapist and trainers in order to provide high level competitive athletes the option to push themselves to their highest abilities within our facility.
Come learn how to improve your health for yourself and your loved ones.
With a bit of work, we can achieve optimal health together, no matter the age or disability.
Its all about: LIVING, LOVING & MATTERING! 🍎
God Bless
2 CONVENIENT LOCATIONS:
CENTRAL ELPASO:
6440 Gateway East, Suite B
EAST SIDE ELPASO:
11860 Vista Del Sol, Suite 128
PHONE: 915-850-0900 ✔️
Special Events and Announcements