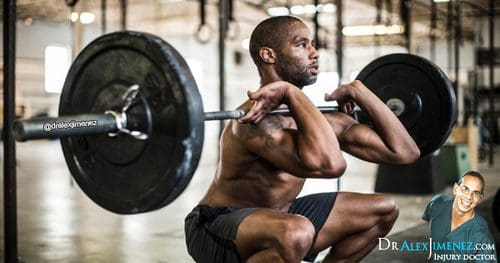 Preventing Weight Lifting Injuries
Notice: Clinic News & Events
Weightlifting is a common type of sport or physical activity many individuals prefer for strengthening their upper body muscles but weightlifting also commonly results in injury. By following a few safety tips, you can prevent hurting yourself while weightlifting to continue training your body effectively.
The most popular weight lifting routines today mainly focus on completing a workout within a limited amount of time. Using a fixed group of exercises, the point of this type of workout is to complete the routines as quickly as each person is individually able to. Focusing on speed during an exercise or physical activity can be a major factor for potential injury. Training is about working out accordingly at the most appropriate tempo for each weight and lift. Slowing down the tempo while weight lifting will help increase the amount of energy an individual has to finish a lift. Additionally, taking a sufficient amount of time for rest in between sets can help prepare an individual both mentally and physically for the next exercise.
Then, when considering safety measures for injury prevention, an individual should note that their exercise routines for weight lifting should include lifts that strengthen and both the front and back sides of the body. Balancing exercises for the entire body will help strengthen the various muscles of the body as well as avoid overusing and underusing other muscle groups and risk an injury.
Most importantly, in order to avoid injury, an individual should never sacrifice form while lifting. Performing each lift with correct form is the best way to avoid an injury. Lifting weights that are heavier than an individual's normal lifting weight, lifting the weights rapidly, or simply being unfamiliar with the proper way to lift, are all ways that compromise form and could cause an injury.
Dr. Alex Jimenez D.C.,C.C.S.T's insight:
There is an extensive variation of exercises and sports today, each which can specifically focus on strengthening different groups of muscles in the body. The variety of workouts can be suitable for enhancing every individual's fitness needs. Regardless of the fitness routine an individual chooses, injury prevention should be the most important part of anyone's workout. For more information, please feel free to ask Dr. Jimenez or contact us at (915) 850-0900.
See on elpasochiropractorblog.com
Chiropractor💡 Author • Researcher • Injury & Trauma Clinician • Wellness Educator • 915-850-0900 📞
We Welcome You 👊🏻.
Purpose & Passions: I am a Doctor of Chiropractic specializing in progressive cutting-edge therapies and functional rehabilitation procedures focused on clinical physiology, total health, functional strength training and complete conditioning. We focus on restoring normal body functions after neck, back, spinal and soft tissue injuries.
We use Specialized Chiropractic Techniques, Balanced Diet Plans, Agility Training programs, Cross-Fit techniques, the PUSH-Rx Rehabilitation System and a highly specialized program for our Veterans.
We've been blessed to use our methods with thousand of El Pasoans over the last 27 years. This has allowed us to improve health and restore true fitness through researched non-surgical methods and wellness programs. These programs are natural and use the body's own ability to achieve goals of improvement, rather than introducing harmful chemicals, controversial hormone replacement, surgery, or addictive drugs. We want you to live a life that is fulfilled with more energy, positive attitude, better sleep, less pain, proper body weight and informed on how to maintain this way of life.
As an extension to dynamic rehabilitation, we too offer our patients, disabled veterans, athletes, young and elder a diverse portfolio of strength equipment, high performance exercises and advanced agility options. We are very proud to have teamed up with the cities premier therapist and trainers in order to provide high level competitive athletes the option to push themselves to their highest abilities within our facility.
Come learn how to improve your health for yourself and your loved ones.
With a bit of work, we can achieve optimal health together, no matter the age or disability.
Its all about: LIVING, LOVING & MATTERING! 🍎
God Bless
2 CONVENIENT LOCATIONS:
CENTRAL ELPASO:
6440 Gateway East, Suite B
EAST SIDE ELPASO:
11860 Vista Del Sol, Suite 128
PHONE: 915-850-0900 ✔️
Special Events and Announcements