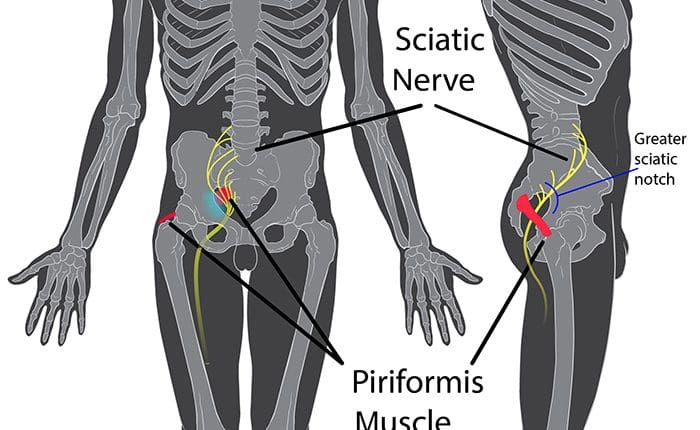 Notice: Clinic News & Events
Ever felt pain in your hip, the center of the buttocks, or pain down the back of the leg, you're likely suffering, at least partly, with piriformis syndrome. The piriformis is a muscle which runs from the sacrum (mid-line base of spine) into the outer hip bone (trochanter). This muscle works overtime on runners.
The muscles in and about the gluteal area help with three areas
• rotation of the hip and leg;
• balance while one foot is off the ground
• stability of the pelvic region.
Needless to say, every one of these attributes are highly needed by runners and everyone else.
Piriformis Injuries
RMI or repetitive motion injury occurs when a muscle has to perform beyond the level of its capability, not given time to recover and doing it again and again. The normal response from a muscle in this situation is to tighten, which is a defensive response of the muscle. This stimulation, however, manifests itself several ways.
First Symptom indicating piriformis syndrome could be pain in and about the outer hip bone. The tightness of the muscle generates increased pressure between the bone and the tendon which produces pain and either discomfort or an increased tension in the joint which produces a bursitis. A bursitis is an inflammation of the fluid filled sac in a joint caused by tension and strain within that joint.
Second Symptom suggesting piriformis syndrome would be pain right at the middle of the buttocks. Although this is not as common as the other two symptoms, this pain can be brought on within the fatty part of the buttocks region with direct compression. A tight muscle becomes a sore muscle upon compression because of reduced blood flow to that muscle.
Third Symptom indicating piriformis syndrome would be a sciatic neuralgia, or pain from the buttocks down the back of the leg and at times into different parts of the lower leg.
The sciatic nerve runs directly through the belly of the piriformis muscle and in the event the piriformis muscle contracts from being overused, the sciatic nerve now becomes strangled, producing pain, numbness and tingling.
Physiology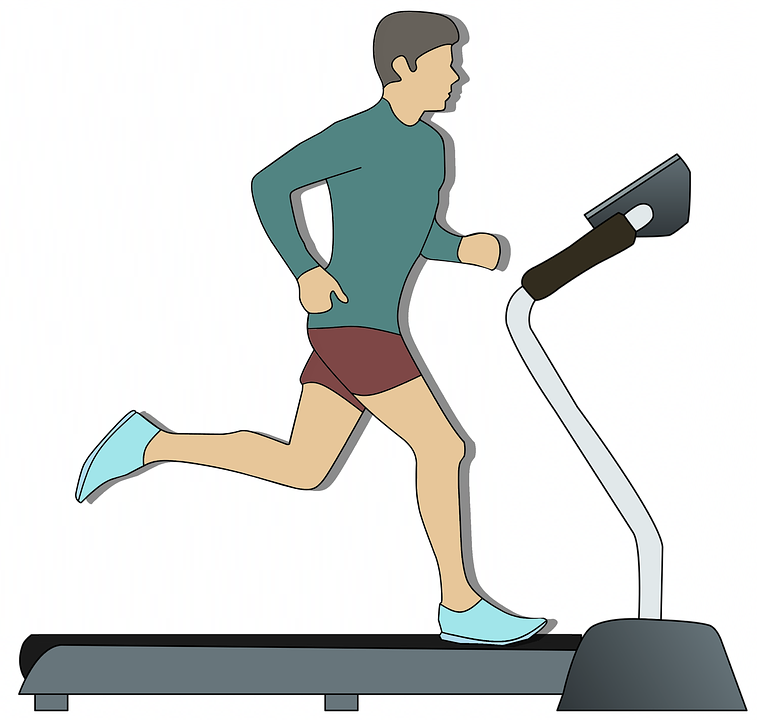 Any muscle constantly used has to have an opportunity to recover. This recovery can be natural with time, or could be facilitated and sped up with treatment. Continuing use will make it even worse since the muscle is tightening due to overuse. This injured muscle needs to relax and have blood flow encouraged into it for a rapid recovery. The tightness  lessens the normal blood flow going to the muscle. To encourage new blood into the muscle is the way of getting the muscle to begin to unwind and operate normally. Massages daily to this area is greatly supported.
The next step in this "recovery" process is to use a tennis ball under the butt and hip area. Roll out from the side of engagement while sitting down on the ground and set a tennis ball inside the outer hip bone under the buttocks area. Note areas of pain and soreness, as you start to allow your weight onto the tennis ball. Trigger points will have a tendency to collect in a repetitively used muscle, and till these toxins are manually broken up and removed, the muscle will have an artificial well being concerning flexibility potential and recovery potential. Consequently, if it's sore while your sitting on it, you're doing a good job. Let the ball operate under every spot for 15-20 seconds before transferring it to a different place. After 4-5 minutes place cross legs with the ankle of the affected leg over the knee of the non-affected leg. Then place the tennis ball just inside the outer hip bone and work the tendon of the muscle. Although this pain requires some time to reduce and is excruciating, the advantages are enormous. Be patient and good things will happen.
Treatments
Due to how the sciatic neuralgia and the hip bursitis or tendonitis are both inflammatory in character, ice therapy, or cryotherapy, within the involved region 15-20 minutes at a time will be beneficial. This should be performed multiple times each day.
Once the acute pain is gone then start with gentle stretching, like a cross-legged stretch while pulling up on the knee. The muscle should have improved flexibility.
Finally the use of pharmaceutical anti-inflammatories are not encouraged. One the intestines are greatly aggravated by them, but they also suggest an artificial wellbeing that can lead to larger problems. Proteolytic enzymes, such as bromelain, extremely beneficial without any side effects and are organic.
Piriformis Syndrome & China-Gel
Chiropractor💡 Author • Researcher • Injury & Trauma Clinician • Wellness Educator • 915-850-0900 📞
We Welcome You 👊🏻.
Purpose & Passions: I am a Doctor of Chiropractic specializing in progressive cutting-edge therapies and functional rehabilitation procedures focused on clinical physiology, total health, functional strength training and complete conditioning. We focus on restoring normal body functions after neck, back, spinal and soft tissue injuries.
We use Specialized Chiropractic Techniques, Balanced Diet Plans, Agility Training programs, Cross-Fit techniques, the PUSH-Rx Rehabilitation System and a highly specialized program for our Veterans.
We've been blessed to use our methods with thousand of El Pasoans over the last 27 years. This has allowed us to improve health and restore true fitness through researched non-surgical methods and wellness programs. These programs are natural and use the body's own ability to achieve goals of improvement, rather than introducing harmful chemicals, controversial hormone replacement, surgery, or addictive drugs. We want you to live a life that is fulfilled with more energy, positive attitude, better sleep, less pain, proper body weight and informed on how to maintain this way of life.
As an extension to dynamic rehabilitation, we too offer our patients, disabled veterans, athletes, young and elder a diverse portfolio of strength equipment, high performance exercises and advanced agility options. We are very proud to have teamed up with the cities premier therapist and trainers in order to provide high level competitive athletes the option to push themselves to their highest abilities within our facility.
Come learn how to improve your health for yourself and your loved ones.
With a bit of work, we can achieve optimal health together, no matter the age or disability.
Its all about: LIVING, LOVING & MATTERING! 🍎
God Bless
2 CONVENIENT LOCATIONS:
CENTRAL ELPASO:
6440 Gateway East, Suite B
EAST SIDE ELPASO:
11860 Vista Del Sol, Suite 128
PHONE: 915-850-0900 ✔️
Special Events and Announcements