A common symptom of sciatica is radiating/spreading pain running down the leg. However, the leg pain could be something to do with the blood vessels. If the pain travels from the low back to the hip, through the buttocks, down the leg, and into the foot, then more than likely it is sciatica. However, sciatica is just one condition that causes leg pain; other causes of leg pain include:
Bone spurs
Herniated disc
Arthritis
All can irritate the sciatic nerve causing sciatica.
The vascular system, also called the circulatory system, comprises the vessels that circulate blood and lymph throughout the body. Problems with the vascular system are a less common cause of leg pain but can be severe. Therefore, it is vital to learn to tell the difference.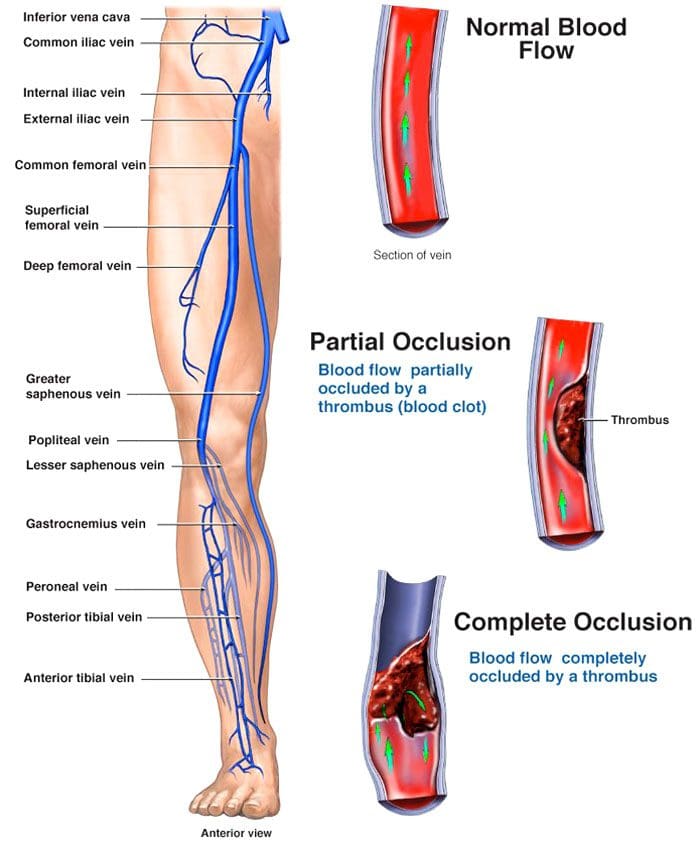 Deep Vein Thrombosis
Deep vein thrombosis – DVT happens when a blood clot forms in a deep vein in the body and not the superficial veins just under the skin. The legs' deep veins are susceptible to clotting. The formation of a clot can happen:
After surgery
From an accident
When recovering, bed resting and not moving.
When the body is in the same position for a long time with little to no movement, like a long plane ride.
On long plane rides, try to get up and walk around every hour. If unable to walk, do three sets of 20 reps of heel-to-toe exercises every hour.
Deep vein thrombosis can cause leg pain or swelling but can also present without causing any symptoms. Other risk factors include:
Blood Clots
Three main factors place individuals at risk for blood clots. They are:
Hypercoagulability
This is when the blood is more prone to clotting. This can occur through:
Genetics
Medications
Pregnancy
Kidney disease
Trauma
Venous stasis
This is when blood flow circulation is slower than it should be. This usually happens from:
Sedentary lifestyle
Heart conditions
Obesity
Smoking
Vascular Trauma
Blunt or penetrating injury to the blood vessel and/or its walls.
Pain running down the leg from a blood clot feels like:
Tightness
Cramping soreness
Throbbing
Possible warmth
Swelling.
Blood clots and sciatica are reported to feel relatively different. The pain from a blood clot does not spread out and does not extend from or to the back. Sciatica does not cause swelling, redness, and warmth. If a doctor suspects a blood clot is causing the pain, they will order an ultrasound to confirm the diagnosis. If it is deep vein thrombosis, blood thinners could be recommended for three to six months.
A doctor may recommend aspirin, which can help in the prevention of blood clots.
Compression stockings/socks could also be recommended.
In some cases, the clot may have to be surgically removed.
Vascular Conditions and Pain Running Down The Leg
Other blood vessel conditions that can cause individuals to believe they have sciatica include:
Peripheral artery disease – PAD
This often presents in individuals with diabetes or who smoke. It causes pain in the calf area but does not radiate throughout the leg. The pain usually presents with physical effort movement. If the pain occurs when at rest, this could be a serious medical emergency. Peripheral artery disease is a chronic condition that can worsen if lifestyle changes are not made to reduce risk factors.
Acute limb ischemia
This condition can cause leg pain, but not the same as sciatica. What happens is the leg is not receiving blood, causing:
Intense pain in the extremity
Change in the color of the skin
Numbness
Weakness
Loss of a pulse
This vascular condition is a medical emergency and requires immediate treatment.
Acute compartment syndrome
This can happen after some kind of trauma to the leg.
The pain is acute, with the leg swelling up and a building up of tight pressure.
It usually affects the lower part of the leg.
This condition can also cause:
Numbness
Tingling
Visible swelling
Bruising
It is considered a medical emergency and needs to be treated quickly to avoid complications.
Varicose veins
Varicose veins can cause some pain running down the leg and/or aching, but the discomfort is not as intense. Treatment has come a long way, is less invasive, and includes:
Compression stockings, including prescription socks/stockings
Laser treatments
Minimally invasive procedures
Not staying on the feet too much
Elevating the legs
Maintaining an ideal weight can help
Vascular Disorder Prevention
Healthy lifestyle habits are recommended to keep the vascular system operating correctly. This includes:
Sciatica Treatment
If it is sciatica, fortunately, most cases go away on their own, but if treatment is needed, it is recommended to start with conservative treatments such as:
Chiropractic
Physical therapy
Anti-inflammatory medication
Muscle relaxants
Corticosteroid injections
In severe cases, surgery like a microdiscectomy or laminectomy will be performed to relieve pressure on the sciatic nerve.
---
Body Composition
---
Why might blood pressure be different when measuring on each arm?
The heart sits just to the left of the midline in the chest cavity. The aorta is the largest blood vessel in the body. It leaves through the left side of the heart and transports blood to a network of blood vessels that branch out, supplying the body with oxygen and nutrients. The arteries that branch off the aorta and go to the left and right sides of the body are different.
On the right, the brachiocephalic trunk comes off the aorta and splits into the right common carotid artery and right subclavian artery. The left common carotid and left subclavian arteries branch directly off the aorta. The differences mean that the risk for arterial thrombosis is not the same for the right and left subclavian arteries. Arterial thrombosis causes the blood vessels to become stiff, causing obstruction over time and is more likely to happen in the left subclavian than in the right. The difference in arterial branching affects blood pressure measurements on the left and right arms. The blood vessels are surrounded by:
Muscle
Fat
Connective tissue
When muscles place pressure on the blood vessels around the heart, it can cause short-term turbulence changes that can affect blood pressure.
References
American Heart Association. Atherosclerosis and cholesterol. www.heart.org/en/health-topics/cholesterol/about-cholesterol/atherosclerosis
American Heart Association. What is excessive blood clotting (Hypercoagulation?) www.heart.org/en/health-topics/venous-thromboembolism/what-is-excessive-blood-clotting-hypercoagulation
Centers for Disease Control and Prevention. What is venous thromboembolism? www.cdc.gov/ncbddd/dvt/facts.html
Cleveland Clinic. Compartment syndrome. my.clevelandclinic.org/health/diseases/15315-compartment-syndrome
Mayo Clinic. Deep vein thrombosis overview. www.mayoclinic.org/diseases-conditions/deep-vein-thrombosis/symptoms-causes/syc-20352557
Mayo Clinic. Sciatica. www.mayoclinic.org/diseases-conditions/sciatica/diagnosis-treatment/drc-20377441
Mayo Clinic. Sciatica overview. www.mayoclinic.org/diseases-conditions/sciatica/symptoms-causes/syc-20377435
Mayo Clinic. Varicose veins. www.mayoclinic.org/diseases-conditions/varicose-veins/diagnosis-treatment/drc-20350649
Obara, Hideaki et al. "Acute Limb Ischemia." Annals of vascular diseases vol. 11,4 (2018): 443-448. doi:10.3400/avd.ra.18-00074
ScienceDirect. (n.d.) "Virchow's Triad." www.sciencedirect.com/topics/medicine-and-dentistry/virchows-triad
Post Disclaimer
Professional Scope of Practice *
The information herein on "Pain Running Down The Leg" is not intended to replace a one-on-one relationship with a qualified health care professional or licensed physician and is not medical advice. We encourage you to make healthcare decisions based on your research and partnership with a qualified healthcare professional.
Blog Information & Scope Discussions
Our information scope is limited to Chiropractic, musculoskeletal, physical medicines, wellness, contributing etiological viscerosomatic disturbances within clinical presentations, associated somatovisceral reflex clinical dynamics, subluxation complexes, sensitive health issues, and/or functional medicine articles, topics, and discussions.
We provide and present clinical collaboration with specialists from various disciplines. Each specialist is governed by their professional scope of practice and their jurisdiction of licensure. We use functional health & wellness protocols to treat and support care for the injuries or disorders of the musculoskeletal system.
Our videos, posts, topics, subjects, and insights cover clinical matters, issues, and topics that relate to and directly or indirectly support our clinical scope of practice.*
Our office has reasonably attempted to provide supportive citations and has identified the relevant research study or studies supporting our posts. We provide copies of supporting research studies available to regulatory boards and the public upon request.
We understand that we cover matters that require an additional explanation of how it may assist in a particular care plan or treatment protocol; therefore, to further discuss the subject matter above, please feel free to ask Dr. Alex Jimenez, DC, or contact us at 915-850-0900.
We are here to help you and your family.
Blessings
Dr. Alex Jimenez DC, MSACP, RN*, CCST, IFMCP*, CIFM*, ATN*
email: coach@elpasofunctionalmedicine.com
Licensed as a Doctor of Chiropractic (DC) in Texas & New Mexico*
Texas DC License # TX5807, New Mexico DC License # NM-DC2182
Licensed as a Registered Nurse (RN*) in Florida
Florida License RN License # RN9617241 (Control No. 3558029)
Presently Matriculated: ICHS: MSN* FNP (Family Nurse Practitioner Program)
Dr. Alex Jimenez DC, MSACP, RN* CIFM*, IFMCP*, ATN*, CCST
My Digital Business Card