Bowling is a fun physical activity that is enjoyable for all ages. Today, there are college bowlers, recreational bowlers, amateur, semiprofessional, professional leagues, and tournaments worldwide. Although it might not be the first sport that comes to mind when thinking of injuries and chronic pain conditions, it can place significant stress on the muscles and tendons of the upper and lower body. It is important to know and understand how to avoid injuries.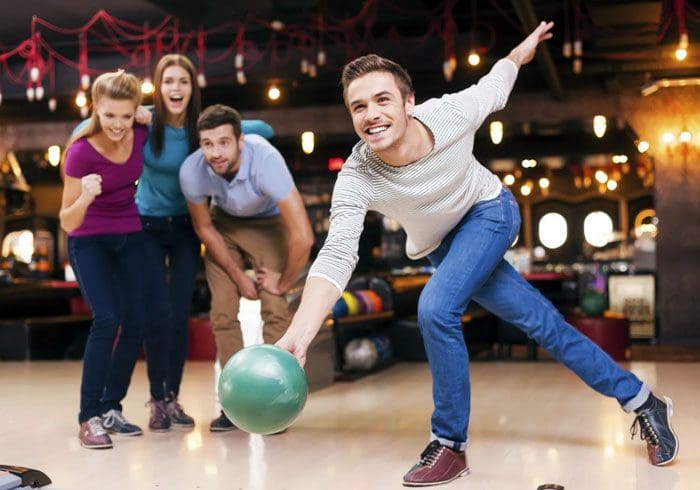 How Bowling Injuries Happen
There are two main causes of injuries and chronic pain related to bowling. The first is poor mechanics, and the second is repetitive over-use. Both cause/develop painful symptoms that can turn into injuries that become chronic conditions. Many injuries are caused by:
Slip and fall accidents
Players dropping the ball on their feet
The majority of injuries come from overuse/repetition and improper body mechanics.
Overuse injuries result from repetitive and/or strenuous actions/movements that place profound stress on the body's musculoskeletal system.
For example, a semi-pro and professional bowler will play fifty or more games a week. This means throwing a sixteen-pound ball for ten frames per game. When consistently repeated over and over, this can cause serious wear and tear to the body. With amateur and recreational bowlers, they don't play as much, so they don't experience overuse injury as much, but what they do experience is improper/poor form techniques that shift the body in non-ergonomic ways, wrong equipment like oversized/too-small shoes that can cause awkward postures and body motions, a ball that is too heavy causing an individual to overthrow and strain their arms, backs, hips, and legs. Or a ball with small finger holes that get stuck or too large, causing finger, hand, arm, shoulder pulls strains, and sprains.
Common Bowling Injuries
The most common injuries and conditions associated with bowling include:
Hand pain
Finger sprain
Wrist Tendonitis
Carpal Tunnel Syndrome
Shoulder Tendonitis
Rotator Cuff Tear
Shoulder Instability
Low Back Pain
Hip Bursitis
Piriformis Syndrome
Sciatica
Herniated Disc
Low back strain and sprain
Knee ACL injury
Knee LCL injury
Knee MCL injury
Knee PCL injury
Knee Meniscus Tear
Illiotibial Band Syndrome
Arthritis
Many of the injuries can lead to tendonitis or arthritis later in life.
Trigger/Bowler's Finger
Symptoms include:
Hand pain after bowling, specifically in the fingers
A clicking or popping when moving the fingers
A finger gets locked in a bent position
Rest, and no bowling is recommended. How long a rest depends on how long the symptoms have been presenting. Physical therapy, along with chiropractic exercises, can help improve finger strength. Splinting the finger could be required to improve the condition. If all fails or does not generate adequate relief, hand surgery could be optioned with a trigger finger release. The surgery allows the finger to move more freely.
Bowler's Thumb
This usually happens to bowlers that want to generate a lot of spin on the ball. If the thumb's hole is too tight, it can pinch the ulnar nerve inside the thumb. If the thumb injury is not serious, rest and getting the correct ball size can correct the issue. This is where purchasing a personal bowling ball can help.
Finger Sprain
This is an injury to one or more of the ligaments in the fingers. It most often takes place in the collateral ligaments along the sides of the fingers inside the ball. The ligament/s gets stretched or torn when the finger is forced beyond its normal range of motion. Common symptoms of a finger sprain include swelling, tenderness, stiffness, and pain in the affected finger. This usually occurs from:
The weight of holding the ball with the fingers alone
A poor release
Using a ball that doesn't properly fit the fingers
A finger sprain falls into grades on the severity of how much the ligament is stretched or torn:
Grade 1
Stretching or microscopic tearing.
Grade 2
Less than 90% of the ligament is torn.
Grade 3
More than 90% of the ligament is torn. Grade three sprains can be accompanied by joint instability and immobility.
Herniated Disc
A herniated disc is when the discs get injured/damaged from overuse, wear, and tear, or a traumatic injury to the spine. The disc can dry out, become less flexible, bulge out, or rupture. Bowlers are constantly:
Bending during the final approach and throw
Carrying a heavy ball
Shifting, twisting, and releasing, increasing the pressure within the discs
In bowling, the majority of herniated discs happen in the low back. The most common symptom is backaches and back pain. Lumbar herniated discs left untreated can cause sciatica.
Avoid and Prevent Injury
The best way to prevent injury is to stay aware of body position, mechanics, equipment, and what the body says.
Stretching
Stretching is one of the best things to avoid injury before practicing, competing, or just playing. Stretching will increase flexibility, especially in the wrist, hand, arm, and low back.
Improving technique
Continually using poor techniques over and over is a perfect set-up for injury. Working with a coach will ensure the proper form. This is important when it comes to generating spin on the ball, as well as, making sure the grip does not place too much strain on the hands.
Using the right ball
The ball being used might not be the right fit for your hand or strength. The holes could be too far apart, causing strain on the fingers. Get as much information as possible and try out different styles and weights to get a comfortable feel for the right ball.
Bowling less
Hard-core bowlers could be overdoing it. Cutting back, and creating a balance will allow the body to recover thoroughly and not cause flare-ups.
Getting in shape
Studies show that individuals who bowl and do not exercise significantly increase the risk of a back injury than those who exercise their back and core. Bowling is not as strenuous as other sports, but it still requires the body to be able to handle the stress.
---
Body Health
---
Test Body Composition
Testing body composition regularly is the best way to ensure the body stays healthy. Tracking body composition tracks Lean Mass and Fat Mass gain or loss. The information provided allows the individual to make the necessary changes to ensure they stay fit and healthy.
Diet adjustment
Diet needs to be adjusted to match the individual's current activity level, or risk running a caloric surplus. A great way to optimize diet is to use Basal Metabolic Rate which will make sure the body is getting enough nutrients to fuel muscle growth, and lose belly fat.
Physical activity that fits the new lifestyle
Increase physical activity levels that work with current lifestyle. This does not mean performing at high levels every day. Be active on a schedule that works for you. Two days of strength training a week offer great physical and mental benefits. The key is to maintain the balance between food consumption and exercise/physical activity that fits your current lifestyle.
References
Almedghio, Sami M et al. "Wii knee revisited: meniscal injury from 10-pin bowling." BMJ case reports vol. 2009 (2009): bcr11.2008.1189. doi:10.1136/bcr.11.2008.1189
Kerr, Zachary Y et al. "Epidemiology of bowling-related injuries presenting to US emergency departments, 1990-2008." Clinical pediatrics vol. 50,8 (2011): 738-46. doi:10.1177/0009922811404697
Kisner, W H. "Thumb neuroma: a hazard of ten pin bowling." British journal of plastic surgery vol. 29,3 (1976): 225-6. doi:10.1016/s0007-1226(76)90060-6
Miller, S, and G M Rayan. "Bowling related injuries of the hand and upper extremity; a review." The Journal of the Oklahoma State Medical Association vol. 91,5 (1998): 289-91.
Post Disclaimer
Professional Scope of Practice *
The information herein on "Bowling Injuries: Chiropractic Care and Rehabilitation" is not intended to replace a one-on-one relationship with a qualified health care professional or licensed physician and is not medical advice. We encourage you to make healthcare decisions based on your research and partnership with a qualified healthcare professional.
Blog Information & Scope Discussions
Our information scope is limited to Chiropractic, musculoskeletal, physical medicines, wellness, contributing etiological viscerosomatic disturbances within clinical presentations, associated somatovisceral reflex clinical dynamics, subluxation complexes, sensitive health issues, and/or functional medicine articles, topics, and discussions.
We provide and present clinical collaboration with specialists from various disciplines. Each specialist is governed by their professional scope of practice and their jurisdiction of licensure. We use functional health & wellness protocols to treat and support care for the injuries or disorders of the musculoskeletal system.
Our videos, posts, topics, subjects, and insights cover clinical matters, issues, and topics that relate to and directly or indirectly support our clinical scope of practice.*
Our office has reasonably attempted to provide supportive citations and has identified the relevant research study or studies supporting our posts. We provide copies of supporting research studies available to regulatory boards and the public upon request.
We understand that we cover matters that require an additional explanation of how it may assist in a particular care plan or treatment protocol; therefore, to further discuss the subject matter above, please feel free to ask Dr. Alex Jimenez, DC, or contact us at 915-850-0900.
We are here to help you and your family.
Blessings
Dr. Alex Jimenez DC, MSACP, RN*, CCST, IFMCP*, CIFM*, ATN*
email: coach@elpasofunctionalmedicine.com
Licensed as a Doctor of Chiropractic (DC) in Texas & New Mexico*
Texas DC License # TX5807, New Mexico DC License # NM-DC2182
Licensed as a Registered Nurse (RN*) in Florida
Florida License RN License # RN9617241 (Control No. 3558029)
Presently Matriculated: ICHS: MSN* FNP (Family Nurse Practitioner Program)
Dr. Alex Jimenez DC, MSACP, RN* CIFM*, IFMCP*, ATN*, CCST
My Digital Business Card