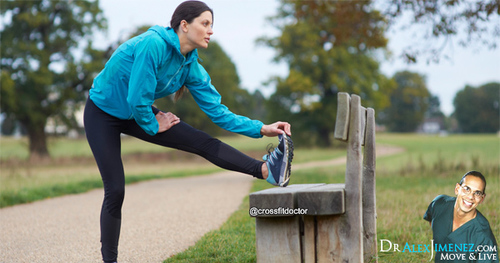 Chiropractic treatment is used to treat soft-tissue injuries or conditions by rehabilitating the body naturally to its original state and function as well as relieving pain and other symptoms. For chiropractors, teaching individuals how to prevent injuries and maintain their health is an important element towards achieving overall wellness. 
Before starting any form of physical activity, its essential to warm up and stretch the body. A simple routine consisting of low or no impact exercises and stretches will help heat up the muscles and increase your heart rate in preparation for the next workout. Also, choosing a proper pair of footwear is important before starting any form of physical activity. A suitable pair of shoes should provide good stability, flexibility, and comfort for the individual. Being able to correctly perform a series of exercises by improving or maintaining a proper posture is especially important for individuals to prevent the development of injuries or conditions and building strong muscles can help. 
Dr. Alex Jimenez D.C.,C.C.S.T's insight:
Together with chiropractic care, a specialized series of stretches and exercises can help build strong muscles and protect the spine and body from harm. While every individual may require specific treatment techniques for their type of injury or condition, the following suggestions can apply to anyone to improve their healing time and maintain their fitness. For more information, please feel free to ask Dr. Jimenez or contact us at (915) 850-0900.