Do you feel:
Unpredictable food reactions?
Frequent bloating and distention after eating?
Acne and unhealthy skin?
Greasy or high-fat foods cause distress?
Inflammation on the body or joints?
If you are experiencing any of these situations, then why not try some of these new food trends for the new year as a start to your resolution.
The start of the new year is filled with healthy resolutions. The top new items that are considered the best, but it is also the time where people will reflect on what they have been through in the year before the new year starts. Some of them are good, while others are bad; however, it does not stop people from seeing what they can do better by moving forward. When it comes to being healthier for the new year, gyms are being flooded with new members to try and be healthier.
Since many people try to get back to a regular exercise routine, at least, many diets and detox programs are being advertised on T.V. and flying out of the shelves. As many people are trying to get rid of the "holiday weight" and start the new year being healthy. So, what does 2020 have in stores to make sure that many people who are trying to eat healthier, by taking a look at the different types of food and diet trends that made to the list for the new year.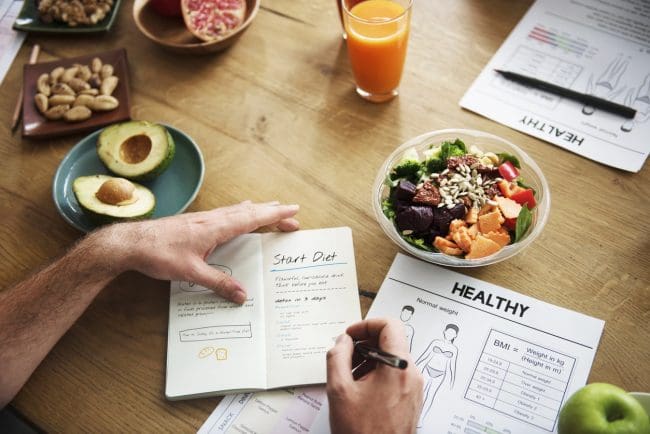 In the 2019 Academy of Nutrition and Dietetics' Food and Nutrition Conference and Expo, nutritionist Janet Helm wrote about some of the topics that were presented in the conference, which include detoxes, personalized nutrition, ketogenic diets, and CBD oil and its products. In another article about the food trends for 2020, acknowledge that keto-oriented products and different menu options have been experiencing a considerable surge being popular as people started to embrace a low carb lifestyle in their nutrition and diet. Surprisingly this goes hand in hand with what Helm was predicting as low carb products like crumbs and croutons will become popular in the new year.
Alternative Flours
Besides the low carb coatings and crumbs, there is another food product that has exploded in popularity in the last few years and shows no signs of stopping. Alternative flours have started to gain a reputation for anyone who may have food intolerances or sensitivities or if they are trying to pay more attention to their carb intake. Alternative flours are made from nuts, seeds, non-gluten grains, and cauliflower that have found their way into the shelves of grocery stores and whole food stores as well.
Bone Broth and Collagen
Another food trend that is receiving attention is bone broth and collagen powder. These two popular foods still occupy the hearts of the consumers as they provide the beneficial potential for supporting healthy skin and joints. With collagen powder, it can be added to smoothies, coffee, and tea to make the skin supple and healthy. While with bone broth, it can provide many health benefits to the body. Both of these food items have collagen peptides that the human body needs for healthy, glowing skin. There is evidence that bone broth has been used as a valued component for many different culinary traditions for any food dishes.
Mushrooms and Plant-Based Alternatives
For a healthy immune system, many consumers are eating mushrooms since they have beneficial immune properties that the body needs. Since all the "old" healthy foods are coming back to be new again this year, it is essential to incorporate them into recipes. Mushrooms have been used as medicine for thousands of years.
With all the food trends that have been popping up for the new year, it would be impossible not to recognize the growing presence of plant-based food alternatives to many meat products. Even though these are healthier options for anyone who choose to avoid animal products, the marketing messages may be misleading for anyone who sees an advertisement for plant-based products. According to the information that was found in the EPA, it stated that greenhouse gas emissions are about nine percent in the total amount of US greenhouse gas emissions in the agricultural sectors.
Additionally, the evidence shows that adequately managed ruminant animals can reduce the atmosphere's carbon footprint rather than contributing to it. Looking at both the environmental and the nutritional aspects of both plant-based products and animal products are still being the subjects of a vast heated debate.
Conclusion
With all these new food trends coming into the new year, it is essential to know that they all have beneficial properties that are excellent for the body. With many people aiming to be a little bit healthier in the new year, adding these food products into their diets can help them achieve a healthier version of themselves. Some products are here to help support the entire body and provide an excellent formula for the intestines, the gastrointestinal, the sugar metabolism, and the metabolic system.
The scope of our information is limited to chiropractic, musculoskeletal, and nervous health issues or functional medicine articles, topics, and discussions. We use functional health protocols to treat injuries or disorders of the musculoskeletal system. Our office has made a reasonable attempt to provide supportive citations and has identified the relevant research study or studies supporting our posts. We also make copies of supporting research studies available to the board and or the public upon request. To further discuss the subject matter above, please feel free to ask Dr. Alex Jimenez or contact us at 915-850-0900.
---
References:
Helm, Janet. "Top 10 Food Trends for 2020." U.S. News & World Report, U.S. News & World Report, 10 Dec. 2019, health.usnews.com/health-news/blogs/eat-run/articles/top-food-trends-for-2020.
McDowell, Erin. "20 Foods Expected to Be on the Rise in 2020, from Impossible Burgers to Oat Milk." Business Insider, Business Insider, 3 Dec. 2019, www.businessinsider.com/popular-foods-everyone-will-be-eating-in-2020.
Moskin, Julia. "Bones, Broth, Bliss." The New York Times, The New York Times, 6 Jan. 2015, www.nytimes.com/2015/01/07/dining/bone-broth-evolves-from-prehistoric-food-to-paleo-drink.html.
Pastures, White Oak. "Study: White Oak Pastures Beef Reduces Atmospheric Carbon." PR Newswire: Press Release Distribution, Targeting, Monitoring and Marketing, 1 May 2019, www.prnewswire.com/news-releases/study-white-oak-pastures-beef-reduces-atmospheric-carbon-300841416.html.
Team, DFH. "Top Food and Diet Trends for 2020." Designs for Health, 7 Jan. 2020, blog.designsforhealth.com/node/1183.
Team, EPA. "Sources of Greenhouse Gas Emissions." EPA, Environmental Protection Agency, 13 Sept. 2019, www.epa.gov/ghgemissions/sources-greenhouse-gas-emissions#agriculture.
Wasser, Solomon P. "Medicinal Mushroom Science: Current Perspectives, Advances, Evidences, and Challenges." Biomedical Journal, U.S. National Library of Medicine, 2014, www.ncbi.nlm.nih.gov/pubmed/25179726.
---
The University offers a wide variety of medical professions for functional and integrative medicine. Their goal is to inform individuals who want to make a difference in the functional medical fields with knowledgeable information that they can provide.
Post Disclaimer
Professional Scope of Practice *
The information herein on "2020's Top Healthy Trends" is not intended to replace a one-on-one relationship with a qualified health care professional, or licensed physician, and is not medical advice. We encourage you to make your own healthcare decisions based on your research and partnership with a qualified healthcare professional.
Blog Information & Scope Discussions
Our information scope is limited to Chiropractic, musculoskeletal, physical medicines, wellness, contributing etiological viscerosomatic disturbances within clinical presentations, associated somatovisceral reflex clinical dynamics, subluxation complexes, sensitive health issues, and/or functional medicine articles, topics, and discussions.
We provide and present clinical collaboration with specialists from a wide array of disciplines. Each specialist is governed by their professional scope of practice and their jurisdiction of licensure. We use functional health & wellness protocols to treat and support care for the injuries or disorders of the musculoskeletal system.
Our videos, posts, topics, subjects, and insights cover clinical matters, issues, and topics that relate to and support, directly or indirectly, our clinical scope of practice.*
Our office has made a reasonable attempt to provide supportive citations and has identified the relevant research study or studies supporting our posts. We provide copies of supporting research studies available to regulatory boards and the public upon request.
We understand that we cover matters that require an additional explanation of how it may assist in a particular care plan or treatment protocol; therefore, to further discuss the subject matter above, please feel free to ask Dr. Alex Jimenez DC or contact us at 915-850-0900.
We are here to help you and your family.
Blessings
Dr. Alex Jimenez DC, MSACP, CCST, IFMCP*, CIFM*, ATN*
email: coach@elpasofunctionalmedicine.com
Licensed in: Texas & New Mexico*
Dr. Alex Jimenez DC, MSACP, CIFM*, IFMCP*, ATN*, CCST
My Digital Business Card