Dr. Alex Jimenez has a great therapy for cervical sprains. He is great with his hands; he has been able to relieve a lot of headaches and a lot of cervical sprains with the special techniques that he has. 

Sandra Rubio
Vertigo is the sensation of spinning or a rocking whenever you're still. It tends to last for hours even days. Medically, it is distinct from dizziness since it involves the feeling of motion. Vertigo is a health issue affecting the internal ear, particularly in the semicircular canals. These structures line with cells within the inner ear that are responsible for providing feedback on our position, and they act like a gyroscope for your own body.
Causes for Vertigo
Various causes can cause vertigo. The reason may be central or peripheral. While peripheral problems are due to a health issue in the inner ear, central problems can occur in the brain or spinal cord. Small crystals within the ear, known as otoconia, can also become loose and lead to irritation in a health issue called benign paroxysmal positional vertigo or BPPV. A buildup in the inner ear can also lead to vertigo. Headaches, head injuries, strokes, tumors, and multiple sclerosis may also cause vertigo.
Head injuries can increase the risk factor for developing vertigo. Additionally, drugs and/or medications like aspirin, blood pressure prescriptions, and even antidepressants have been found to cause vertigo. For some people, vertigo is caused by alcohol consumption.
Diagnosis and Treatment for Vertigo
To diagnose vertigo, a health professional will need a full record of your signs and symptoms, including recent illnesses, previous medical problems, and use of drugs and/or medications. Afterward, a physical exam is performed. For vertigo, these often feature a neurological examination to examine brain function and determine if it is peripheral or central.
The health issue may pinpoint signs or symptoms of abnormal eye movement. The Dix-Hallpike test or the roll test may be done to determine this diagnosis. The evaluation repositions the head and tracks symptoms. The head is quickly transferred from side to side. An MRI or a CT scan can also help exclude structural issues. Electronystagmography may additionally be carried out to diagnose the health issue. A vertigo diagnosis is essential before following up with the best treatment.
The most effective treatments in the event of peripheral vertigo include partial repositioning movements. It's called the canalith repositioning procedure or the Epley maneuver. Particular head movements are performed to move the crystals back into place. Cawthorne head exercises may also be performed to achieve this in a series of eye and head movements. These improve vertigo and contribute to the decreased sensitivity of the nerves. However, this needs to be done on a regular basis for optimum results. A qualified and experienced healthcare professional, such as a chiropractor, can perform these types of treatments.
Furthermore, chiropractic care can help correct any spinal misalignments, or subluxations, which may be contributing to vertigo. Chiropractic care is a safe and effective alternative treatment option which focuses on the treatment of a variety of injuries and conditions associated with the musculoskeletal and nervous system. A chiropractor may also offer lifestyle modifications to help speed up the recovery process. Although some drugs and/or medications, such as Meclizine, can be used to manage vertigo, keep in mind that these may only provide temporary relief.  
Vertigo may occur due to health issues in the inner ear as well as due to disturbances in the pathways of the nervous system. Regardless of the cause, the persistent sensation of dizziness, followed by other symptoms, can ultimately impact an individual's quality of life. Many healthcare professionals like chiropractors can help treat symptoms of vertigo.

Dr. Alex Jimenez D.C., C.C.S.T.
Prognosis for Vertigo
Most patients with peripheral vertigo can find substantial relief with treatment. It's been suggested that the Epley maneuver in cases of BPPV cures as many as 90 percent of affected patients. It is unlikely that vertigo will persist past a few days, although there is a 15 percent recurrence of BPPV in the first year after an episode. Tests for any structural problems of the brain, spinal cord, or ear may be necessary if vertigo continues.
If you are feeling dizzy with an awareness of motion, you might have vertigo. Ensure that your world stops spinning with the help of a certified and experienced chiropractor. Many trained in the Epley maneuver and the Cawthorne head exercises for vertigo. A chiropractor can even offer you instruction on how to do these exercises. Contact a healthcare professional to complete an analysis of your symptoms and follow up with treatment.  The scope of our information is limited to chiropractic as well as to spinal injuries and conditions. To discuss the subject matter, please feel free to ask Dr. Jimenez or contact us at 915-850-0900 .
Curated by Dr. Alex Jimenez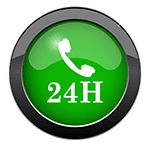 Additional Topics: Acute Back Pain
Back pain is one of the most prevalent causes of disability and missed days at work worldwide. Back pain attributes to the second most common reason for doctor office visits, outnumbered only by upper-respiratory infections. Approximately 80 percent of the population will experience back pain at least once throughout their life. The spine is a complex structure made up of bones, joints, ligaments, and muscles, among other soft tissues. Because of this, injuries and/or aggravated conditions, such as herniated discs, can eventually lead to symptoms of back pain. Sports injuries or automobile accident injuries are often the most frequent cause of back pain, however, sometimes the simplest of movements can have painful results. Fortunately, alternative treatment options, such as chiropractic care, can help ease back pain through the use of spinal adjustments and manual manipulations, ultimately improving pain relief.
Post Disclaimer
Professional Scope of Practice *
The information herein on "What is Vertigo?" is not intended to replace a one-on-one relationship with a qualified health care professional, or licensed physician, and is not medical advice. We encourage you to make your own healthcare decisions based on your research and partnership with a qualified healthcare professional.
Blog Information & Scope Discussions
Our information scope is limited to Chiropractic, musculoskeletal, physical medicines, wellness, contributing etiological viscerosomatic disturbances within clinical presentations, associated somatovisceral reflex clinical dynamics, subluxation complexes, sensitive health issues, and/or functional medicine articles, topics, and discussions.
We provide and present clinical collaboration with specialists from a wide array of disciplines. Each specialist is governed by their professional scope of practice and their jurisdiction of licensure. We use functional health & wellness protocols to treat and support care for the injuries or disorders of the musculoskeletal system.
Our videos, posts, topics, subjects, and insights cover clinical matters, issues, and topics that relate to and support, directly or indirectly, our clinical scope of practice.*
Our office has made a reasonable attempt to provide supportive citations and has identified the relevant research study or studies supporting our posts. We provide copies of supporting research studies available to regulatory boards and the public upon request.
We understand that we cover matters that require an additional explanation of how it may assist in a particular care plan or treatment protocol; therefore, to further discuss the subject matter above, please feel free to ask Dr. Alex Jimenez DC or contact us at 915-850-0900.
We are here to help you and your family.
Blessings
Dr. Alex Jimenez DC, MSACP, CCST, IFMCP*, CIFM*, ATN*
email: coach@elpasofunctionalmedicine.com
Licensed in: Texas & New Mexico*
Dr. Alex Jimenez DC, MSACP, CIFM*, IFMCP*, ATN*, CCST
My Digital Business Card