Summary
Neoplasms
The vast majority of clinically suspected bone Mets are found in the axial skeleton and proximal femurs/humeri
Radiography is the most cost-effective and readily available initial imaging tool to investigate bone Mets but often fails early metastatic detection
Tc99 bone scintigraphy is the most sensitive and cost-effective imaging modality to demonstrate metastatic foci
MR imaging may help  regional identification of bone Mets especially if x-radiography is unrewarding
Significant limitations of MRI: inability to perform a whole-body MRI scan
Cost and other contraindications such as cardiac pacemakers and cochlear implants may be another limiting factor
Marrow Based Neoplasms
Malignancy originating from the marrow cells are often referred to as "round-cell tumors."

Multiple Myeloma (MM)
Lymphoma
Ewing's sarcoma
The last two are less frequent than MM
Red marrow in adults is in the axial skeleton and proximal femurs/humeri d/t gradual marrow "retraction" following the childhood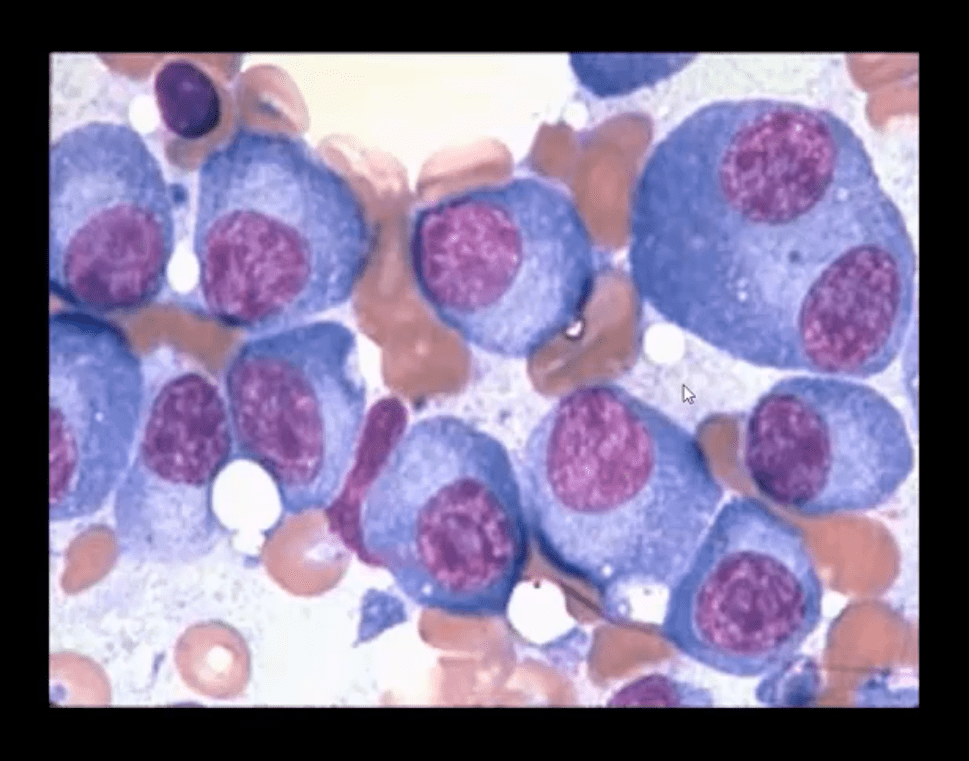 Note bone marrow biopsy histopathology specimen of MM with abnormal plasma cells replacing regular marrow residents (above image)
Multiple Myeloma (MM) is the most common primary bone neoplasm in adults>40s. Etiology is unknown, but many theories exist (e.g., genetic, environmental, radiation, chronic inflammation, MGUS)
MM: malignant proliferation of plasma cells >10% of red marrow, with subsequent replacement of normal marrow cells by myeloma cells and overproduction of monoclonal antibodies paraproteins (M protein) with heavy chains IgG (52%), IgA (21%), IgM (12%) and light chains kappa or lambda aka Bence-Jones proteins
Clinical Presentation of MM
MM is occasionally detected as unexplained anemia on routine blood studies for unrelated complaints
Common MSK symptoms: Bone pain/Pathologic fractures
Constitutional: Weakness/malaise
Systemic: bleeding, anemia, Infection (especially pneumococcal) d/t marrow replacement and pancytopenia
Hypercalcemia d/t bone resorption
Renal failure aka myeloma kidney
Neuropathies
Amyloidosis
Gout
Diagnostic imaging plays an essential role during the Dx of MM
Bone marrow aspiration biopsy, blood tests, and serum protein electrophoresis may be used 
Imaging approach: bone pain is investigated with initial x-radiographs if radiographs are unrewarding MR imaging may help to reveal bone marrow abnormality. MRI is recommended as myeloma survey
Currently, MRI protocol known as "whole body myeloma scan" consisting of T1, T2-fat suppressed, and T1+C coronal sequences can detect MM in the skull, spine, pelvis, ribs and femurs/humeri. This technique is much more superior to radiographic "skeletal myeloma survey."
Tc99 bone scintigraphy is not typically used for MM because over 30% of MM lesions are "cold" or photopenic on radionuclide bone scan d/t highly lytic nature of MM with osteoclasts outpacing osteoblasts.
A radiographic skeletal survey is considered more sensitive than bone scintigraphy in MM
PET-CT scanning of MM is gaining popularity due to the high level of detection of multiple sites of MM
Radiographic Dx of MM: consists of identification of characteristically localized focal osteolytic "punched out" or "moth-eaten" lesions of variable sizes following the distribution of adults red marrow
Note rad abnormality is known as "raindrop skull" is characteristic of MM
Radiographic appearance of MM may vary from "punched out" round radiolucencies to "moth-eaten" or permeating osteolytic lesion producing endosteal scalloping (yellow arrow)
Pelvis and femurs are commonly affected by MM and present radiographically as round lytic punched out or moth-eaten lesions
N.B. Occasionally MM may pose radiographic dilemma by presenting as generalized osteopenia in the spine that can be difficult to differentiate from age-related osteoporosis
MR imaging of MM reveals  marrow changes with low signal on T1, a high signal on fluid-sensitive sequences and bright contrast enhancement on T1+C gad d/t increased vasculature and high activity of  MM cells
Example of full-body MRI of "whole body myeloma scan" with T2-fat suppressed (A), T1 (B) and T1+C (C) pulse sequences produced in coronal slices
Note multiple foci of bone marrow changes in the spine pelvis and femurs
Miscellaneous Neoplasms of the Spinal Column
Chordoma: is relatively uncommon but considered the m/c primary malignant neoplasm that only affects the spine. D/t slow growth is often misdiagnosed for a considerable length of time as LBP

Pathology: derives from malignant transformation of notochordal cells presented as mucoid, gelatinous mass containing physaliphorous cells
Demo: M: F 3:1 (30-70S). 50%-sacrococcygeal, 35% spheno-occipital 15%-spine
Clinically: asymptomatic for a long time until non-specific LBP, changes in bladder & bowel, neurological signs are less common d/t midline "outward" growth & inferior to S1. Local invasion worsens prognosis. 60%-survive 5-years, 40%-10-years, Mets are delayed, poor prognosis d/t local invasion. >50% can be id. on DRE.
Imaging: x-rays often tricky d/t overlying gas/feces. CT is >sensitive to id the bone mass and internal calcifications. MRI: T2 bight signal, T1 heterogeneously low and high d/t mucus/blood decomposition, MRI best detects local invasion and essential for care planning. Rx:  complete excision is often impossible d/t local vascular invasion.
Giant cell tumor (GCT): 2nd most common primary sacral tumor. It is a histolgically benign neoplasm containing multinucleated Giant cells of Monocyte-Osteoclast origin
Imaging Dx: x-radiography is the 1st step usually in response to complaints of LBP. Often challenging to id on x-rays d/t bowel gas/feces

Key rad feature: osteolytic expansile lesion noted by destruction of sacral arcuate lines. CT may id the lesion better. MRI is the modality of choice folowing x-rays. MRI: T1 low to intermediate signal. Heterogenously high d/t edema with areas of low signal on T2 d/t blood degradation and fibrosis. Characteristic fluid-fluid levels may be noted especially if ABC develops within a GCT. Rx: operative. Prognosis is less favorable than GCT in long bones d/t lung Mets (deposits) in 13.7%
Aneurysmal Bone Cysts (ABC) are benign expansile tumor-like bone lesions (not a true neoplasm) composed and filled with numerous blood-filled channels. Thus the term "blood sponge." ABC is m/c id in children and adolescents
Unknown etiology: trauma and pre-existing bone neoplasm (e.g., GCT) often reported. Clinically: pain that may be progressive d/t rapid nature of ABC expansion. In the spine, ABC m/c affects posterior elements and presented as expansile, soap-bubbly or lytic lesion.
DDx: can be broad, but Osteoblastoma and GCT are the top DDxs.
Imaging: x-rays demo expansile mass in posterior elements, CT is more sensitive than x-rays, MRI will demo characteristic fluid-fluid levels and mixed high and low signal d/t edema and blood decomposition/aging with some septations.
N.B. MRI fluid-fluid levels are not exclusive to ABC, and DDx includes GCT, osteoblastoma, telangiectatic osteosarcoma.
Rx: operative curettage and bone grafting, fibrosing agents. Recurrence 10-30%.
Spinal Neoplasms
Additional Resources
Professional Scope of Practice *
The information herein on "Spinal Neoplasms Diagnostic Imaging Approach Part II" is not intended to replace a one-on-one relationship with a qualified healthcare professional or licensed physician and is not medical advice. We encourage you to make your own health care decisions based on your research and partnership with a qualified health care professional.
Our information scope is limited to chiropractic, musculoskeletal, physical medicines, wellness, sensitive health issues, functional medicine articles, topics, and discussions. We provide and present clinical collaboration with specialists from a wide array of disciplines. Each specialist is governed by their professional scope of practice and their jurisdiction of licensure. We use functional health & wellness protocols to treat and support care for the injuries or disorders of the musculoskeletal system.
Our videos, posts, topics, subjects, and insights cover clinical matters, issues, and topics that relate to and support, directly or indirectly, our clinical scope of practice.* Our office has made a reasonable attempt to provide supportive citations and has identified the relevant research study or studies supporting our posts. In addition, we provide copies of supporting research studies available to regulatory boards and the public upon request.
We understand that we cover matters that require an additional explanation of how it may assist in a particular care plan or treatment protocol; therefore, to further discuss the subject matter above, please feel free to ask Dr. Alex Jimenez or contact us at 915-850-0900.
We are here to help you and your family.
Blessings
Dr. Alex Jimenez DC, MSACP, CCST, IFMCP*, CIFM*, ATN*
email: coach@elpasofunctionalmedicine.com
Licensed in: Texas & New Mexico*