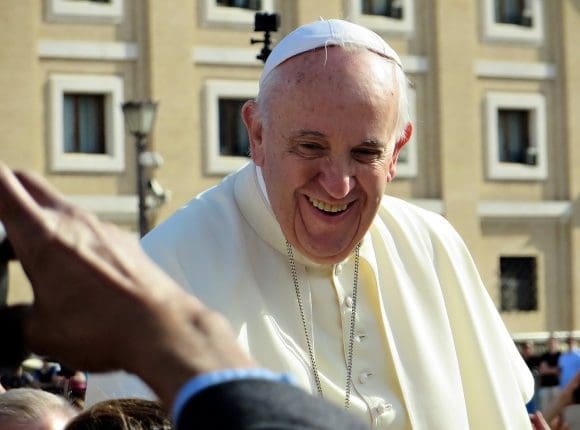 Pope Francis & Sciatica Pain
Notice: Clinic News & Events
Chiropractic, Massages & Spinal Injections Are Your Papal Prescription For Low Back & Leg Pain.
Should you suffer from the low back and leg symptoms of sciatica, the pope feels your pain. Reports reveal that Pope Francis has spent part of his 2017 summer undergoing spinal shots and massage therapy to help manage his sciatica.
Sciatica is intense low back and leg pain which runs along the course of the sciatic nerve, that is the longest and largest nerve in the human system. The sciatic nerve extends from your low back all the way down to a foot. Several spinal ailments can irritate the sciatic nerve and cause sciatica, including a herniated disc, lumbar spinal stenosis, spondylolisthesis, and trauma (you can read more in common sciatica causes). The root reason for Pope Francis' sciatica is unclear.
The 80-year-old pope has suffered from sciatica for many years, having first remarked on his struggle with it in a 2013 through a media conference when he said, "Sciatica is very painful, very painful! I don't wish it on anyone!"
More recently, the pope has received epidural steroid shots and massages twice a week to handle his back pain pain, according to the Italian news magazine Famiglia Cristiana.
Sciatica PSA
How Spinal Injections & Massage Can Help Relieve Sciatica
Pope Francis' routine of epidural steroid injections and massages underscores the fact that while the pain of sciatica can be extreme–almost indescribable–spine operation isn't always the answer. The pope's non-surgical approach to sciatica pain management is one that many individuals suffering from the illness adopt.
With epidural steroid shots, strong anti-inflammatory drugs known as corticosteroids are injected near the spinal nerve roots. The therapy works with varying success, but some people experience decreased pain for months following an injection.
With massage, a therapist can target the muscle tension that may be compressing the sciatic nerve or associated nerve roots. Deep tissue massage treatment may be type of massage used, since it utilizes direct pressure and friction to release the pressure in the soft tissues (ligaments, tendons, muscles) surrounding the sciatic nerve.
Chiropractor💡 Author • Researcher • Injury & Trauma Clinician • Wellness Educator • 915-850-0900 📞
We Welcome You 👊🏻.
Purpose & Passions: I am a Doctor of Chiropractic specializing in progressive cutting-edge therapies and functional rehabilitation procedures focused on clinical physiology, total health, functional strength training and complete conditioning. We focus on restoring normal body functions after neck, back, spinal and soft tissue injuries.
We use Specialized Chiropractic Techniques, Balanced Diet Plans, Agility Training programs, Cross-Fit techniques, the PUSH-Rx Rehabilitation System and a highly specialized program for our Veterans.
We've been blessed to use our methods with thousand of El Pasoans over the last 27 years. This has allowed us to improve health and restore true fitness through researched non-surgical methods and wellness programs. These programs are natural and use the body's own ability to achieve goals of improvement, rather than introducing harmful chemicals, controversial hormone replacement, surgery, or addictive drugs. We want you to live a life that is fulfilled with more energy, positive attitude, better sleep, less pain, proper body weight and informed on how to maintain this way of life.
As an extension to dynamic rehabilitation, we too offer our patients, disabled veterans, athletes, young and elder a diverse portfolio of strength equipment, high performance exercises and advanced agility options. We are very proud to have teamed up with the cities premier therapist and trainers in order to provide high level competitive athletes the option to push themselves to their highest abilities within our facility.
Come learn how to improve your health for yourself and your loved ones.
With a bit of work, we can achieve optimal health together, no matter the age or disability.
Its all about: LIVING, LOVING & MATTERING! 🍎
God Bless
2 CONVENIENT LOCATIONS:
CENTRAL ELPASO:
6440 Gateway East, Suite B
EAST SIDE ELPASO:
11860 Vista Del Sol, Suite 128
PHONE: 915-850-0900 ✔️
Special Events and Announcements